Whether you like or dislike Donald Trump, you gotta give props to his wife, Melania, for having stellar taste. One of her favorite looks is the safari jacket. Just this past week, she wore one in black and another in khaki–the good-looking, highly functional jacket worked well for her as she traveled to Texas for Hurricane Harvey and later to Florida for Hurricane Irma.
The iconic style jacket has been around since around 1860. It first surfaced in the late-nineteenth century as part of the British military uniform in the tropics. Fabricated of cotton and outfitted with pockets, buttons, epaulets, and a belt, it made a style statement from day one.
Starting in 1900, men of the upper crust made the safari jacket a must-have item for hunting, exploring, and other outdoor activities.
By 1940, actors–including some females–and writers were sporting the style. Among the wearers were Grace Kelly and Ernest Hemingway.
In the '60s, Yves Saint Laurent designed his own take on the safari jacket.
Today, the safari jacket is a classic piece that I believe deserves a place in everyone's wardrobe. Available in casual forms–soft cottons–as well as more tailored, formal versions in wool, it looks sharp either way. Take a look at some of my top picks.
Here is a classic one in army green from Veronica Beard. Note how this could be dressed up or down.
$595. http://www.veronicabeard.com.
Here's one in a camo fabric from Berretta. I love the belt and collar. It's currently on sale for 455 pounds. http://estore.beretta.com
Here is a tailored wool version from Marc Jacobs. It's on sale for $900. http://www.matchesfashion.com.
Here is a more affordable, casual cotton version from Lord and Taylor. $76.
This one from TravelSmith comes in a lighter shade. An added bonus, it won't wrinkle.
$96. www.travelsmith.com.
This one is Velvet by Graham & Spencer. I found it at Bloomingdales online for $148.
Here's another casual take on the iconic safari from Free People. $103.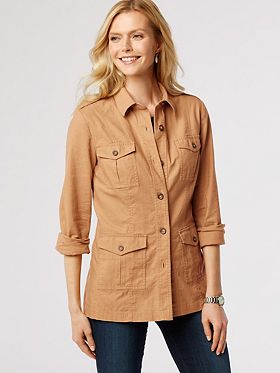 This tan one is by Pendleton and is currently on sale for $76.
Here is a suede version for an unbelievable $100. You can find it at Burlington Coat Factory. It also comes in black and tan.