Every year, come holiday party time, I find myself wishing that I had a sumptuous and fetching stole to envelop myself in when temperatures drop. This year, I am going to take the big leap and actually purchase one. But before I do, I want to ensure that the one I pick is going to fulfill all my winter dreams.
It's got to be highly versatile because I want to be able to wear it with my existing black Burberry trench coat, which is on the formal side, as well as my more casual black leather jacket. I am also hoping to pair it with gray and black maxi cardigans that I often wear with jeans in the winter. And finally, it also has to look smart when worn over a formal holiday dress because  A. one of the annual parties that I always attend (actually, it's the only formal holiday fete that I normally attend) has cocktails and hors d'oeuvres out on a patio where wood-burning fireplaces and heaters keep the space toasty (I live in Phoenix, Arizona, so while it gets chilly, it's never below zero and rarely is there any snow to content with) and B. I hope to wear it with either a swanky pantsuit or dress when I go to see The Nutcracker (I love this holiday tradition; it is one of the events that most puts me in a magical, merry state of mind…well, that, and perhaps a steaming mug or two of mulled wine, a glass of champagne, one of those delicious cranberry bars from Starbucks, I could go on).
Because I am practical–at least when buying an initial item that my wardrobe lacks–I'm going to stick to a classic color. For me, something in a shade of gray will provide enough contrast against the black backdrops of my outerwear so that the fur will actually be seen and really pop. I am also hoping that the lighter hue will work well with my olive skin tone. But if you already have a practical stole, why not go for a more energetic hue say ruby red, royal blue, deep purple, or jade green?
If you are also in the mood this year for a fur stole, check out the ones that caught my attention.
Fox Fur Stole from Macy's Fur Vault. OMG! I love this one. It's currently on sale for $1816.50. So this one is on the pricey side, but wow…wouldn't that look fantastic.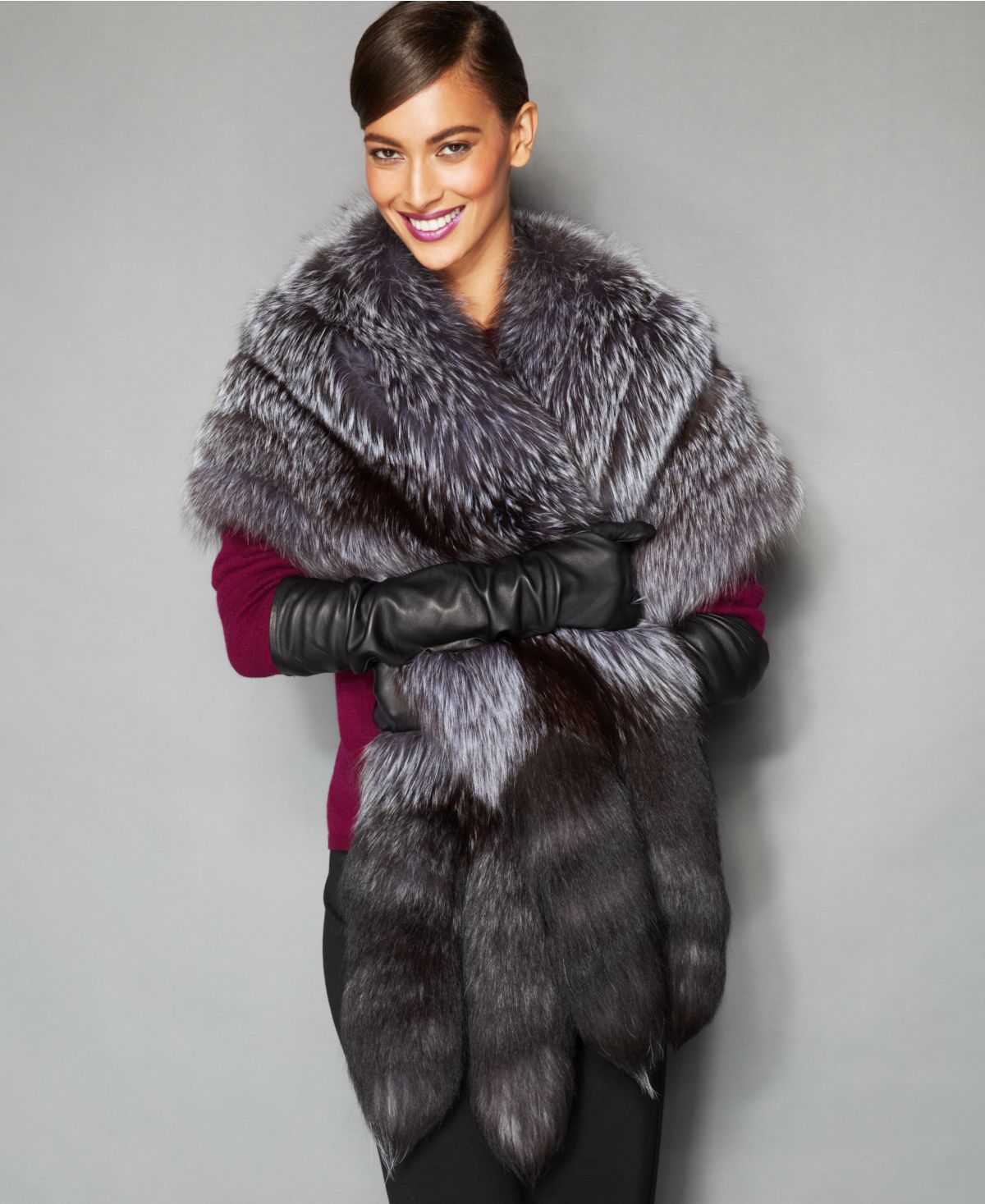 Here is one that I also really love. This one is from Saks Fifth Avenue, where it is currently on sale for $555. Obviously it looks delicious with a black turtleneck, and I can totally see it working beautifully with both my trench coat and leather biker jacket. This one is a contender for me.
Here is a colorful arctic fox fur stole from Marni. I actually do like it over the pale blue coat. You can find it at Barney's for $3290.00.
The one below hails from Carolyn Rowan. Composed of mink and featuring Swarovski crystals, it is available for  $11,000 at Neiman Marcus. It comes in blue, navy (shown), and black.
By Oscar de la Renta, this wrap features a wave pattern of black and honey-hued fox fur. $4250.00. A girl can dream….
Now here is a real contender or me–a Mongolian fur scarf. It has all the fluff and frill that I am dreaming of and the price is actually somewhat doable…$675 at Barney's. I know that this is something that I would wear for years to come….I'm in Mongolian fur love.
OK, so we've investigated real fur options. Now, let's look at faux fur possibilities. These are wonderful because they are kinder to our animal friends and to our pocketbooks. I also think that the faux fur that's out there has really improved in quality over the years. It looks real and costs a fraction of the price of real fur.
This gray one is from Karen Miller. It sells for 130 pounds (British).
Check out this lovely rich blue and black one from Bloomingdales. It's only $68! This is one that I would consider as an additional option…after I buy the more practical gray-colored stole.
If you like red and enjoy making a grand entrance, why not go for this long, lovely stole scarf from Helmut Lang. Find it at Bergdorf Goodman. $265.
I hope this smattering of stoles inspires you and gets you thinking about your winter wish list.