Tales abound of how the lovely leopard got its spots. Some say the leopard was awarded its spots to better veil its presence while hunting deep within the lush forest; one African tale explains that the spots came from bee stings inflicted on the leopard when he dared to attack Kalulu the Hare, who was under the protection of the Elephant King. The Elephant King had decreed that in his jungle, no one would eat the flesh of others. The spots remind the leopard of his misadventure. However the leopard came to bear its fetching flecks, we can all agree that its luxurious coat offers a most distinctive look.
For years, I have loved the leopard print from afar, never feeling confident enough to wear it and fearing its appeal would prove emphemeral. As time has passed, I have come to realize that the leopard print is a perennial favorite. While some seasons it is worn head to foot and during others only as an accessory–say featured in a purse or scarf–the leopard print never fully fades away.
Because it's been beckoning me for so long, I have decided that it's finally time to pull out the ole pocketbook and pull the trigger…figuratively speaking. Here are some of the best leopard-spotted offerings on the market. If you, like me, are ready to go wild for the leopard, you ought to check out my top dots.
The featured photo displays Dolce & Gabbana's leopard print trench coat. Made of brown silk, it is available for $2,995 at http://www.farfetch.com.
Animal print blouse from Zara. $39.90. http://www.zara.com.
J Crew. $300. http://www.jcrew.com.
Kate Spade slip-on tennis shoes. $110.00. http://www.bloomingdales.com.
Valentino Biker Jacket. $540.00. http://www.farfetch.com.
Leopard Print Bancroft Trench Coat from Pologeorgis. $4,750.00. http://www.pologeorgis.com.
Chico's Luna Tassel Leopard Print Earrings. $35.00. http://www.chicos.com.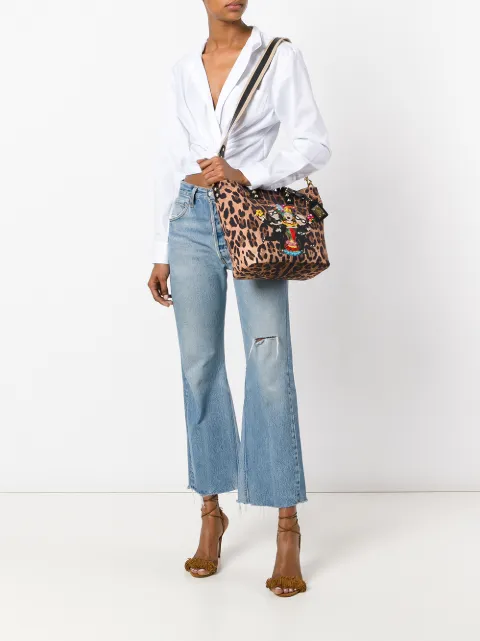 Dolce & Gabbana Leopard Print Purse. $2,395.00. http://www.farfetch.com.
Genuine Calf Hair Leopard Print Foldover Clutch from Claire V. $295.00. http://www.nordstroms.com.
Ella Genuine Leather and Calf Crossover Bag. $99.00. http://www.nordstrom.com.
Yves Saint Laurent Small High School Genuine Calf Hair and Calfskin Leather Satchel. $1,990.00. http://www.nordstrom.com.
Michael Kors. $398.00. http://www.nordstrom.com.
Small leopard print backpack from Kendall + Kylie. $190.00. http://www.nordstrom.com.
Vince Camuto Leopard Print Booties. $159.95. http://www.nordstrom.com.
Cole Haan's Justine Leopard Print Pump. $150.00. http://www.nordstrom.com.
Rhythm' Waterproof Rain Boot
Joe's Sydney Pointy-Toe Mule. $129.95. http://www.nordstrom.