OK, so I know this is supposed to be a blog about fashion, but I was thinking it might be fun for me to share some of the skin care products I use. A lot of people compliment me on my skin and ask what makeup I use, etc. So I am assuming that my skin looks fairly good.
Let me preface this discussion by saying that I have always had pretty decent skin. I think that part is likely genetic. My skin is also naturally oily, which ensures I have a shiny forehead by 10 a.m. every day no matter what (I am a frequent skin blotter). Turns out, oily skin is a good thing when it comes to aging. For that, I am grateful and pretty much undeserving.
I never really considered my skin until I was around maybe 11 and a delightful school friend named Ginger pointed out a pimple on my face. Mortified (I have always been self-conscious and melodramatic), I went home and studied every inch of my visage in the mirror. From that day forward, I became obsessed. But this led to my developing a terrible habit and, I would say, almost an addiction, of picking my face. I spent quite a few years with ugly scabs on my cheeks and forehead because I was a serial picker. So, for me, any damage to my face has been totally self inflicted. I still have to refrain from picking any time I see something that doesn't belong. I would argue it's maybe my form of self mutilation…some people pull their eyebrows out, some over pluck, some use razors to cut themselves. I happen to find it relaxing in the moment to root out imperfections. Later, I am filled with remorse when I see the damage. Don't pick.
In a desperate attempt to save my face, I started reading all I could about skin care.
So after that lengthy intro, here are my favorite products and practices for saving face. Keep in mind that I am not a doctor and cannot know if what works for me is going to work well for you.
1. Swap out sunbathing for sunless tanners. I just found a really good one that I love. It's St. Moriz Self Tanning Mousse in Dark. Be sure you get the mousse and not the spray version; it's easier to apply because it doesn't run. This stuff looks so natural and if you make a decent attempt to blend, it doesn't leave streaks. I first bought it at Walgreen's for around $12 but just found it on Amazon for $6.43. God, I love Amazon! This product is way better than the really expensive ones I've tried (Kiehls, Clarins, and more).
St. Moriz Self Tanning Mousse. $6.43. http://www.amazon.com.
2. Wear a 50 SPF daily. on your face, neck, chest (the chest is a telltale sign of advanced age if you don't take care of it) and ears (don't forget the tops of your ears) every day, no matter what. I use Obagi's Sun Shield Matte Sunscreen Lotion. It's pricey at $50 but it lasts a long time. It goes on great–not too thick, not too "white", and not at all oily.
Obagi Sun Shield Matte Sunscreen Lotion. On sale for $43.78 currently at http://www.lovelyskin.com.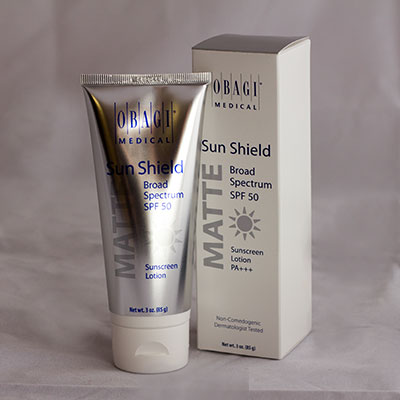 3. Use Retin-A at night. I have been using this since my 20s and swear it has made all the difference. This is the single most important product in my regime. I use it maybe every other night and it's amazing. Now you can get this from your dermatologist or you can ask a friend who is heading to Mexico to pick some tubes up for you. It's about $70 from your doctor and about $15 from Mexico. I have used the Mexican version and never had a problem. You will get flaky from time to time but that's evidence of your skin cells turning over…a good thing for anti-aging.
4. Cleanse really well. It is essential to really cleanse your face well day and night. Never skip this ever…I don't care how many Limoncello shots you've had. I use one that I found a few years ago and swear by. Prior to using it, I was getting all these tiny bumps on my cheeks. They were not pimples you could pop; they were deep, under the skin and made me look lizard-light if the sun hit my face at just the right angle. My preferred face wash isn't fancy but boy does it work. It is called Salicylic Deep Gel Cleanser and it's by Perfect Image. It's around $30. It cured me miraculously of those bumps…something no dermatologist was able to do. It's highly concentrated, so you don't need much.
Perfect Image's Salicylic Deep Gel Cleanser. $24.95. http://www.amazon.com.
5. Exfoliate often. I realized a few years ago how important exfoliation is…particularly if you are using Retin-A. You gotta get all those dead skin cells off to reveal the beautiful new skin below. Here is an exfoliator I used every day at night.
Prospector Co's Gleaners Facial Scrub. $24. http://www.barneys.com.
6. Moisturize, moisturize, moisturize. I have been using a facial oil of late and love it. I know it sounds scary, but this oil moisturizes so beautifully and doesn't create more oil. You can find these in every price point. Don't buy the most expensive one; it's not necessary. I just found one that I really like by Jordan Samuel called Etoile Facial Oil. It isn't perfumed, isn't too thick, isn't too runny. It is, as Goldilocks said, "Just right." I use it day and night. In the evening, I put it on and do facial massage exercises that supposedly lift and sculpt the muscles under the skin, drain fluid, and engender a radiant glow. OK, I know this sounds goofy, but it's worth a try. I also do these in the morning cuz that is when I feel the fluid needs to be coaxed away from my under eyes.
Etoile Facial Oil. $33. http://www.jordansamuelskin.com.
7. Invest in a good eye cream and pat it on. I don't have a favorite; I'm still looking for one that does it all–moisturizes, depuffs, and tightens. Let me know if you have one you love. Whichever one I use, I pat it on gently, taking care not to pull the skin.
8. Use a dermal roller for home microneedling. This is new to my regime, and I think it's pretty amazing. I bought a dermal roller off Amazon for around $14. I use it several times a week at night. Wash your face really, really good before doing this; you do not want to cause an infection by not having a clean face; also, wash the roller part in rubbing alcohol after every use and buy a new roller every month and chuck the old one.
Here is the technique: Put some oil on your face and massage it in. Then take the roller and gently roll it up and down your cheeks, lips, forehead, chin, and over your eyebrows, taking care not to go over your eyelids. Go vertically, horizontally, and at an angle too. The roller makes tiny cuts/abrasions to your skin that, experts claim, force your skin to build collagen to repair. This should, theoretically, result in plumper skin. It doesn't hurt (just don't press too hard and buy a 0.25 mm roller–no larger. Also, roll carefully and then lift up; you can scrape yourself if you go about it too quickly. Trust me, I know. I had to walk around with an unsightly scrape on my neck for a week).
This is the one I got:
Derma Roller Micro Needles 540 Needle Rollers For Body Skin Beauty Massager Tool for Anti-Aging Microneedle Roller For Face High Grade Skin Roller.
$13.66. http://www.amazon.com.
9. Slather on a mask. Find a moisturizing mask you like and use it several times a week. I found one by Kiehl's that I really like. Cilantro & Orange Extract Pollutant Defending Mask. It is an overnight mask that you leave on. Green and creamy, it actually tastes good…a little minty. (I accidentally got some on my lips and found it to be sweet and not at all yucky or medicinal; don't go eating spoonfuls of it though…obviously). My skin feels really soft after using this stuff.
Cilantro & Orange Extract Pollutant Defending Mask. $32. http://www.kiehls.com.
10. Employ a humidifier at night in your bedroom. I have mine right next to the bed. I live in dry Arizona and need that extra moisture at night. It makes my nose and throat happy too.
11. Find a high-quality makeup that works well with your skin tone and type. My makeup of choice is … ta da…Dermablend Smooth Liquid Camo Foundation with SPF 25. This stuff is amazing. I love it. Some people find it too thick. For me, it's perfect. I love the texture of it, the coverage it offers, how it lasts through day, night, hurricanes, monsoons, etc. I wear it in the shade called Sienna because I like that tanned look.
Dermablend Smooth Liquid Camo Foundation. $37. http://www.amazon.com.
12. Switch to cream blush. I wear a cream blush by Bobbi Brown. Bobbi Brown Pot Rouge for Lips and Cheeks. I love that it's dual purpose…you can use it on your lips and cheeks. I also love the creamy texture. I think older women should absolutely use cream blush instead of powder. This potion gives a great glow, looks natural, and won't leave you looking dry. It comes in a bunch of hues. I like Blushed Rose.
Bobbi Brown Pot Rouge for Lips and Cheeks. $29-$40. http://www.amazon.com.
Here are some products that I have just started incorporating into my regime. I will let you know how I fair with these.
Vitamin C24 by Indeed Laboratories. I use it in the a.m. It is supposed to help prevent free radical damage, brighten and protect skin. $50.00. http://www.indeedlabs.com.
NIOD's Copper Amino Isolate Activator Serum. $50.00. I got the 1 percent because of the price. The 5 percent is stronger, but it's also a whooping $200.00.
It comes out blue…but it doesn't color your skin blue. No worries.
This product contains 1.0% pure Copper Tripeptide-1 (GHK-Cu) to be mixed with a specialized activator before first use. This extraordinary concentration targets signs of skin aging, including visible textural damage, uneven tone, visibly enlarged pores and a general lack of a visibly healthy radiance normally present in younger skin. In short, the skin will look younger starting within 5 days with continued visible improvements with continued use.
Clinique's Moisture Surge Moisturizer. This comes highly recommended by just about everyone who has tried it and it's a reasonable price. $39. http://www.sephora.com.
OK, I think that is plenty to ponder for today. Cheers.