I do believe that there are some items every woman who cares about fashion and style should have in her closet if she wants a well-rounded, functional wardrobe. I say "functional" because you can buy all sorts of clothes and still walk into your closet and have that "I have nothing to wear" feeling. You gotta have some key pieces to make it all work…no matter how old you are or where you live. Now, while I may show some pricey pieces here, know that you can find these same looks in affordable knockoffs from Zara and Topshop. These are here to illustrate what you should be looking for in terms of the style and cut.
A classic raincoat. Now it does not have to be a pricey Burberry one, but it should have the same classic lines and style so that it never goes out of style. You should only need to buy a new one because the one you have is getting holes or the fabric is wearing thin.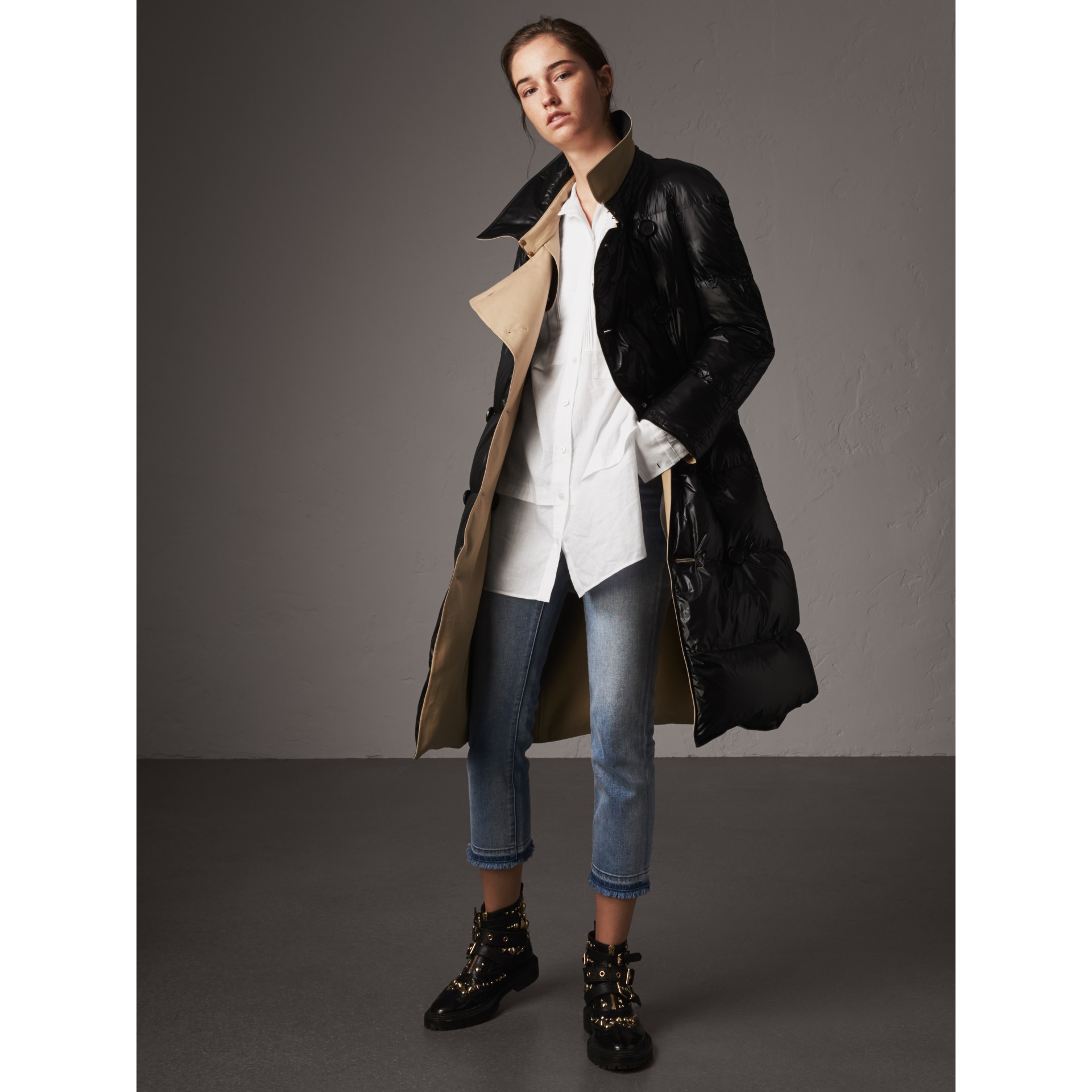 This one from Burberry is reversible, offering two looks for one. http://www.burberry.com.
2. A well-made, crisp white shirt. This is going to serve you well in so many ways. Wear it alone with jeans or topped by a blazer. Note that a mandarin collar looks great on anyone, which is why this white shirt from COS is so wonderful. Not only does its collar detach, exposing a mandarin collar, it also has French cuffs that are removable. I love any piece that offers more than one look. Crisp white up near our faces adds brightness…start putting it above your black sweaters and you will see what I mean.
$99.00. http://www.cos.com.
3. A classic LBD. It may sound cliched but every well-dressed lady has one really awesome little black dress in her closet. It's the go-to dress for holiday parties and other swanky events. If you have an ample chest, go for one with a v-neck and avoid ruffles and too much frou-frou. If you are more on the flat-chested side, go for ruffles. If you like your shoulders, pick a sleeveless variety. If you don't like your arms, go for sleeves. Great back? Keep things conservative in front and expose your back. Once again, go for something with a classic shape; you want to wear this dress season after season. You can always reinvent it with a necklace, a sequined jacket, or a scarf. Some dresses can even look good when worn with the back in front and the front in back. Great legs? Make it short. Whatever you do, celebrate your body's strengths, rock your look, and have a good time at the party!
This classic style is from Escada. http://www.neimanmarcus.com.
This one from Narcisco Rodriguez would work well on a petite lady with a small chest and someone who wants to create a more defined waist. http://www.neimanmarcus.com.
I love this one from Michael Kors. http://www.neimanmarcus.com.
This one is from Rag and Bone. http://www.neimanmarcus.com.
4. A pair of classic blue jeans that looks and feels good.
Jeans are here to stay and we all wear them. So why not take the time to try on a bunch and find the ones that really work best for your body? Personally, I am a huge fan of J Brand jeans. I love the ones with some stretch and a slight flare. They feel great, hug my curves, and keep the saggy bits in.
Here is an embellished pair from J Brand. http://www.neimanmarcus.com.
5.  A plain white T that fits you well and holds its shape. Personally, I like mine to have capped sleeves, stretch, and shape. I refuse to wear boxy T-shirts that are 100% cotton. They offer nothing in the way of a flattering shape. Each year, you should buy at least one really good white T-shirt and toss out the old one. This is among fashion's hardest-working pieces.
Majestic Paris T for Neiman Marcus.
6. An elegant blazer. I like mine fitted and a tad longer than most. I love Balmain blazers from afar because they are so pricey. I own blazers from Veronica Beard and Zara because they are more affordable, incredibly well made, and give me the same look.
Balmain blazer. http://www.neimanmarcus.com.
Veronica Beard "Dickey" Blazer. http://www.veronicabeard.com.
Dress blazer. http://www.zara.com.
7. A striped shirt. We all should have one good blue and white striped shirt. If you have an ample chest, make sure the lines are either vertical or on an angle. This is a classic looks that never goes out of style and always looks fresh.
8. Classic black pants. Like jeans, you should have one pair of really good black pants that fits you well and is made of high-quality fabric.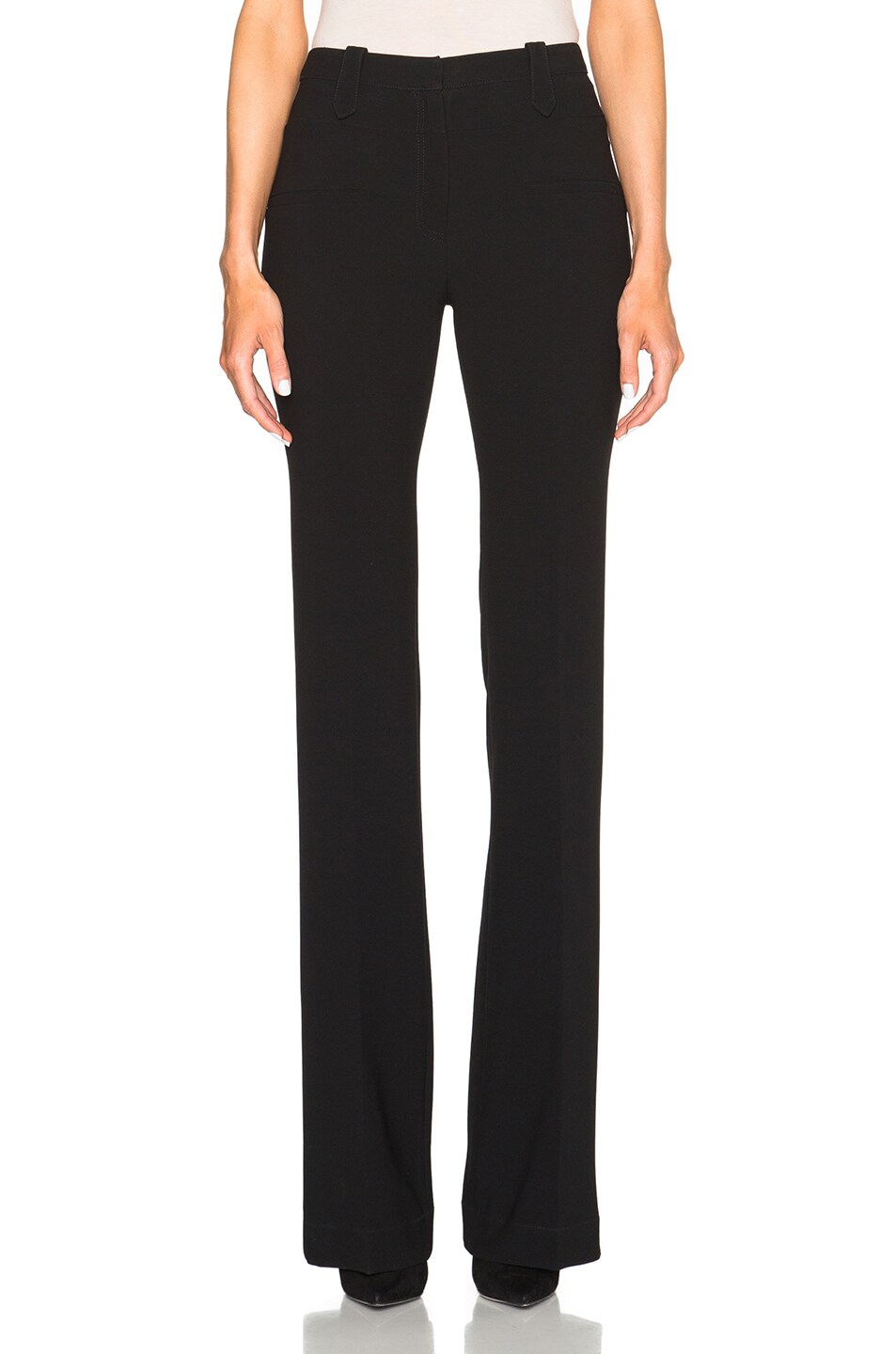 Altuzarra Serge Flare Trousers. http://www.fwrd.com.
9. A pair of classic black pumps. These are something you should definitely invest in. Buy good quality leather, a shape that flatters your feet, ankle, and leg, and at a height that you can comfortably wear for an extended period. You can make them even more comfy by inserting plush cushions for the balls of your feet. Buy the same ones that Kate Middleton does and you can't go wrong (see below).
Yes, mam', these are by Christian Louboutin. http://www.neimanmarcus.com.
Kate Middleton wears these insoles from Alice Bow to cushion her feet in those nude pumps she wears all the time. http://www.us.alicebow.com.
10. A tan-hued leather satchel purse. This should be your daily, go-to bag that looks stylish whether you're shopping at Target or Neiman Marcus.
Hudson small leather saddle bag from Chloe. http://www.neimanmarcus.com.