When it comes to skincare, I prefer to follow advice that all the experts agree on rather than chasing the latest fad. The one rule that everyone who wants to keep their skin as healthy, cancer-free, and youthful as possible should follow is this: wear sunscreen every day no matter where you live or what you plan to do. OK…well maybe it's the number 2 rule with "Stay out of the sun" being the number 1…but it's equally as important. Not only will wearing sunscreen help you avoid scary skin cancers, it will also keep you from prematurely turning into a wrinkly prune.
Unfortunately, when I was a teenager living in Wisconsin, summer–the most elusive of seasons in that part of the United States–meant lying in the sun on a foil-covered blanket basting our bodies and faces in tanning or baby oil. We meant business; we were going for the darkest of tans. All the girls in my neighborhood did this regardless of skin type. Today, most parents know to tell their kids to avoid exposure to the sun's harmful rays. Lucky kids! But, back then, our parents pretty much thought it was healthy to go out and get a healthy-looking glow after so many winter months indoors had left us pale. In fact, my mom often joined me during my backyard tanning sessions!
Over the years, I have learned why avoiding the sun and wearing sunscreen are so vitally important. Here is a synopsis of what I've gleaned.
What are the dangers of sun exposure?
The first danger of too much time in the sun is sunburn. Sunburn equals sun damage. With repeated sun damage, the skin starts to look dry, wrinkled, and leathery. Non bueno. However, the sun's most dangerous threat is that it is the major cause of skin cancer.
Does the sun have benefits?
Many people have been taught that your body needs sunlight to make vitamin D. However, today, many foods are fortified with vitamin D. Thus, sun exposure is not so critical for the body's vitamin D supply as it used to be.
How can I avoid the harmful effects of the sun?
Stay out of the sun to avoid sun damage.
If you are outdoors, always wear sunscreen. In fact, use it every day even if you don't go outside.
Wear protective clothing…long sleeves, slacks, and a wide-brimmed hat.
Don't forget to protect your eyes as well by wearing sunglasses that filter UV light.
I'm about to tell you my two favorite sunscreens of all time…I have used them both for years and see no reason to change that. I like them because they offer a high-level of protection–50 SPF–along with a matte finish. Blessed with an oily T-zone, I cannot lather myself up in just any sunscreen. If I use something too oily, my face turns into a shiny, reflecting pool by 10 a.m. and pimples crop up sometime in the afternoon.
To keep my face both ultra protected and non-shiny, I turn to Obagi Sun Shield Matte Broad Spectrum SPF 50. It runs around $50 for a 3 oz. tube and lasts me about six months. This stuff is terrific. It protects amazingly well and never makes me shiny, oily, or feeling as if I have a thick layer of goo on my visage. It
Offers protection against free radical damage and hyperpigmentation;
Is ideal for mature skin, acne-prone skin, oily skin, sensitive skin, and combination skin;
Includes powerful ingredients, such as zinc oxide, antioxidants, vitamin c, alphy hydroxy acides, and coenzyme Q10; and
Can be slathered over your face, decolletage, neck, and hands.
A word of caution: do not buy it from just any old place. Savvy copiers have been known to sell fake versions on ebay and other websites. If the price is a lot cheaper, I would avoid buying it. $51.50 at www.dermstore.com.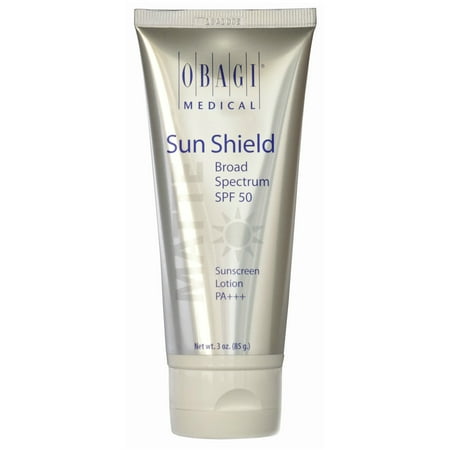 My second favorite sunscreen is Physical Fusion UV Defense from SkinCeuticals. The 1.7 oz. bottle goes for $34. You can also opt for the 4.2 oz. bottle for $65 at Dermstore.
http://www.dermstore.com
.
Here's why I love it so much. This suncreen offers the same 50 SPF UVA/UVB protection as the Obagi suncreen, along with a universal tint in a very light beige. So, if you don't want to wear a heavy foundation but still want a little color and coverage, this is a terrific option. It is also water-proof–an added bonus. I find it light with a wonderful matte finish. This will definitely not lead to 10 a.m. shine.
Heed my advice…the best thing you can do to save your face and keep your skin healthy and youthful is to wear an SPF every day no matter what your planned activities. Make wearing sunscreen as natural as brushing your teeth, working out, and eating well.